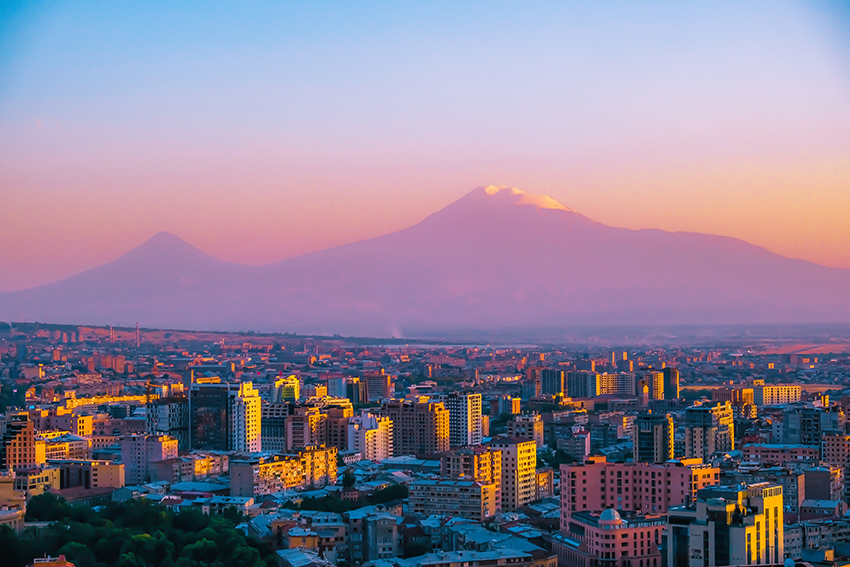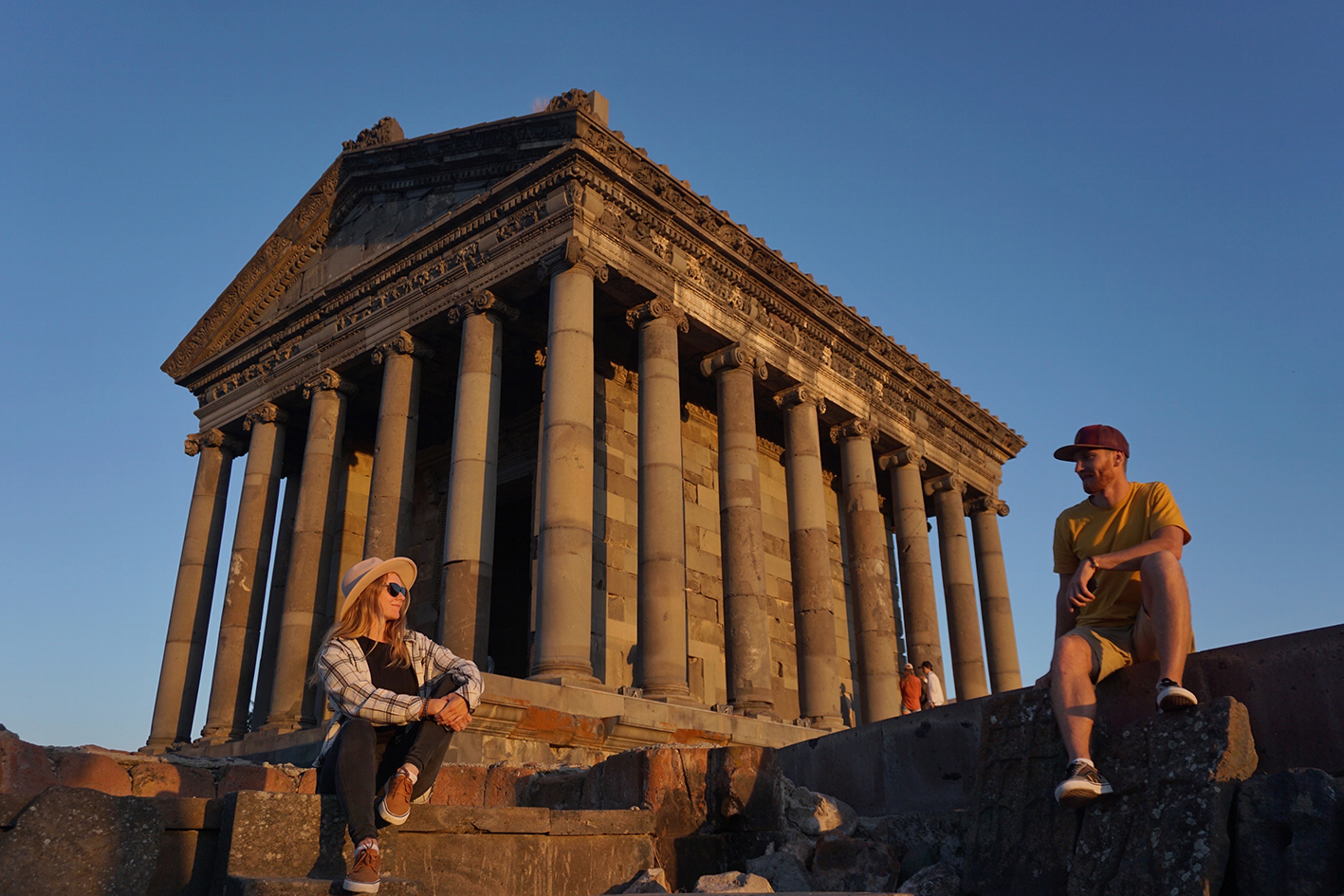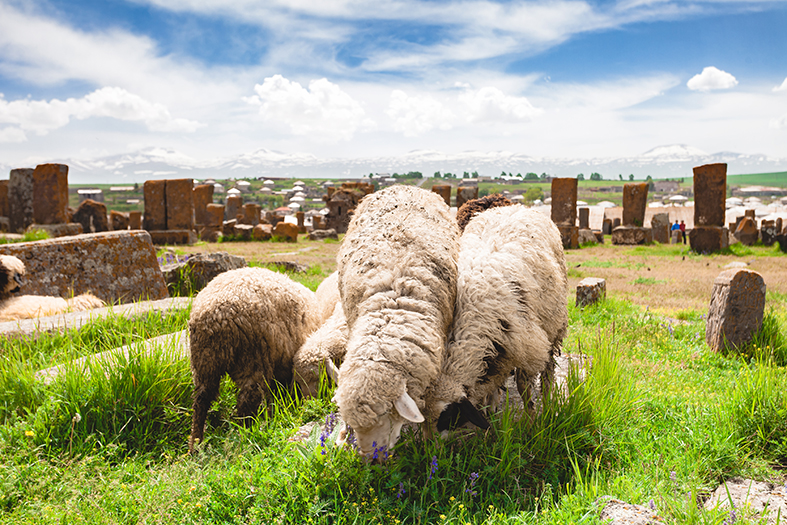 0 UAH
Minimal ticket price
2 hours 40 minutes
Flight duration
Boeing 737-800 Next Generation
Flying on aircraft
Why visit Yerevan with Bees Airline?
Yerevan (capital of Armenia) which climbs the hillsides from the deep trench of the Hrazdan, is an attractive city in a fine natural setting framed by the extinct volcanic peaks of Mount Aragats and Mount Azhdaak to the north and Mount Ararat across the Turkish frontier to the south. Many modern buildings along its tree-lined streets have been constructed in traditional Armenian styles and of variously coloured local stone. The Matenadaran archives (founded 1920) hold a rich collection of ancient Armenian manuscripts, such as the Lazarus Gospel of 887. Yerevan also has many theatres and museums.
What to see in Yerevan? Yerevan has lots of greenery, parks and gardens which are all very well looked after. For the visitor Yerevan has emerged as Eurasian, European, cosmopolitan, fashionable and a great city to enjoy music, art, history, eateries, swank cafes and shops, traditional dining and cultural interaction. Visiting Yerevan is a mosaic of people, history, churches dating back thousands of years and historically a most significant land over the centures. Yerevan is on the circuit of modern cities coupled with an antiquity of huge cultural value. And don`t forget the brandy. Like gold.
How to add a meal to your booking on the Kyiv- Yerevan flight?
Choose one or more dishes by link: https://bees.aero/en/passengers/food
Go to "My booking" at least 36 hours before departure.
Order your chosen dishes using the "Add extras" menu.
Where are we flying from?
No search result
Alicante,

Spain

new

ALC

Antalya,

Turkey

new

AYT

Araxos,

Greece

new

GPA

Athens,

Greece

new

ATH

Bahrain International Airport (BAH),

Bahrain

new

BAH

Barcelona,

Spain

new

BCN

Batumi,

Georgia

new

BUS

Burgas,

Bulgaria

new

BOJ

Corfu,

Greece

new

CFU

Ganja,

Azerbaijan

new

GNJ

Helsinki,

Finland

new

HEL

Heraklion,

Greece

new

HER

Hurghada,

Egypt

new

HRG

Kharkiv International Airport (HRK),

Ukraine

new

HRK

Kherson,

Ukraine

new

KHE

King Abdulaziz International Airport (JED),

Saudi Arabia

new

JED

Kyiv Boryspil,

Ukraine

new

KBP

Kyiv Sikorsky,

Ukraine

new

IEV

Larnaca,

Cyprus

new

LCA

Lviv,

Ukraine

new

LWO

Marsa Alam,

Egypt

new

RMF

Mombasa,

Kenya

new

MBA

Mykolaiv,

Ukraine

new

NLV

Odesa,

Ukraine

new

ODS

Podgorica Airport (TGD),

Montenegro

new

TGD

Prague,

Czechia

new

PRG

Rhodes,

Greece

new

RHO

Samarkand,

Uzbekistan

new

SKD

Sharjah,

United Arab Emirates

new

SHJ

Sharm El Sheikh,

Egypt

new

SSH

Tbilisi,

Georgia

new

TBS

Tel Aviv- Israel (Ben Gurion Airport),

Israel

new

TLV

Tivat,

Montenegro

new

TIV

Varna,

Bulgaria

new

VAR

Warsaw (WAW - Chopin Airport ),

Poland

new

WAW

Yerevan,

Armenia

new

EVN

Zadar- Croatia (ZAD - Zemunik Airport),

Croatia

new

ZAD

Zaporizhzhia,

Ukraine

new

OZH
No search result
Alicante,

Spain

new

ALC

Antalya,

Turkey

new

AYT

Araxos,

Greece

new

GPA

Athens,

Greece

new

ATH

Bahrain International Airport (BAH),

Bahrain

new

BAH

Barcelona,

Spain

new

BCN

Batumi,

Georgia

new

BUS

Burgas,

Bulgaria

new

BOJ

Corfu,

Greece

new

CFU

Ganja,

Azerbaijan

new

GNJ

Helsinki,

Finland

new

HEL

Heraklion,

Greece

new

HER

Hurghada,

Egypt

new

HRG

Kharkiv International Airport (HRK),

Ukraine

new

HRK

Kherson,

Ukraine

new

KHE

King Abdulaziz International Airport (JED),

Saudi Arabia

new

JED

Kyiv Boryspil,

Ukraine

new

KBP

Kyiv Sikorsky,

Ukraine

new

IEV

Larnaca,

Cyprus

new

LCA

Lviv,

Ukraine

new

LWO

Marsa Alam,

Egypt

new

RMF

Mombasa,

Kenya

new

MBA

Mykolaiv,

Ukraine

new

NLV

Odesa,

Ukraine

new

ODS

Podgorica Airport (TGD),

Montenegro

new

TGD

Prague,

Czechia

new

PRG

Rhodes,

Greece

new

RHO

Samarkand,

Uzbekistan

new

SKD

Sharjah,

United Arab Emirates

new

SHJ

Sharm El Sheikh,

Egypt

new

SSH

Tbilisi,

Georgia

new

TBS

Tel Aviv- Israel (Ben Gurion Airport),

Israel

new

TLV

Tivat,

Montenegro

new

TIV

Varna,

Bulgaria

new

VAR

Warsaw (WAW - Chopin Airport ),

Poland

new

WAW

Yerevan,

Armenia

new

EVN

Zadar- Croatia (ZAD - Zemunik Airport),

Croatia

new

ZAD

Zaporizhzhia,

Ukraine

new

OZH
Price is for one-way trip of 1 adult
Purchase is possible only round trip
Price is for one-way trip of 1 adult
Purchase is possible only round trip